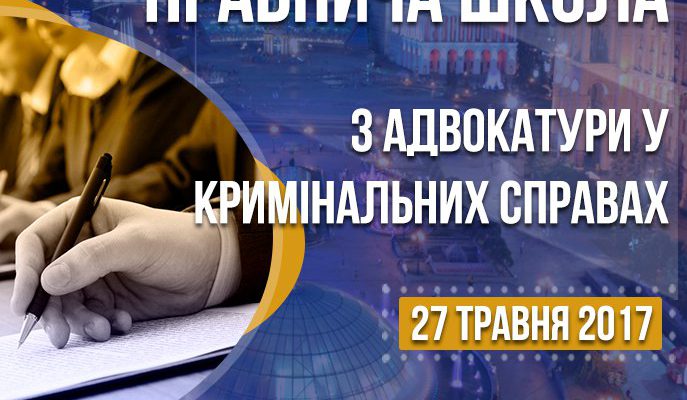 VІ All-Ukrainian Law School for Advocacy in Criminal Matters
Date: May 27, 2017, Kyiv.
Place: Kiev, National Aviation University (Cosmonaut Komarova ave., 1, 1 building, 4 floor).
Organizers:
– Coordinating Council of Young Lawyers of Ukraine under the Ministry of Justice of Ukraine;
– Law Institute of the National Aviation University;
– "K-project center".
Purpose:
• Provide practical knowledge and advice to students and young lawyers.
• Conducting a "question-answer" conversation.
• Discussion of problems and prospects for the development of the Bar Association and the Judiciary.
• Conducting master classes for lawyers specializing in criminal law.
• Disclosing to clients the secrets and methods of working with clients and government agencies.
• Development of lawyer skills in criminal proceedings.
• Learn to develop a strategy, tactics of protection and legal position.
• Learn about the work of a lawyer at the stages of investigation and trial.
• Simulation of court sessions and litigation.
Participants: students of 2-6 courses of higher educational institutions of Ukraine, young lawyers and scientists who will apply for participation.
Terms of participation:
The registration fee is:
• the whole course – 100 UAH. (The number of seats is limited!)
• when registering before 20.05.17 – 50 UAH.
To participate, you need until May 25, 2017:
– complete the application at:
https://docs.google.com/forms/d/e/1FAIpQLSeSZ1qXK0j0i..
– to pay the organizational fee (the details will be sent to the e-mail after confirmation of registration).
Each participant will necessarily receive a certificate confirming participation and unforgettable emotions.
Partners of the event:
General Partner: Solodko & Partners Law Firm.
Information partners: Yuridicheskaya Gazeta, Legal Bulletin of Ukraine, Institute of Political, Legal and Religious Studies.
Internet partner: Community of Ukrainian lawyers «lawsociety.com.ua».
Additional information on krmj.org.ua;
vk.com/crime_advocate17;
facebook.com/crime_advocate17.
Coordinates of the Organizing Committee:
Kotorobay Yevgeny, school coordinator, deputy head of the KRMU of Ukraine
тел.: 093 733 47 88, Geki@bk.ru